Here are some equipment suggestions and recommendations:
---
Thin Mini-ITX motherboards. (Feb 17, 2016)
Socket 1150
ASRock; H81TM-ITX R2.0.
Gigabyte; Q87TN, H87TN, B87TN, H81TN.
ASUS; Q87T, H81T R2.0, H81T.
MSI; H81TI.

Also ECS; H81H3-TI2, H87H3-TI and Aaeon; EMB-H81B.
Socket 1151
Gigabyte; GA-H170TN.
Also Aaeon; EMB-H110B, EMB-Q170B.
---
HD Plex 250W PSU assembled in FLS-8 (8/10/2015)
One of my client needed more power in FLS-8 so he purchased HD Plex 250W PSU. His words:

I'm very pleased with the new PSU so I hope it works for you. I'm really glad to have got the AC-DC part out of the case versus a Streacom flex power supply. Here it is fitted - I drilled holes through the backing adapter plate and bolted it to the wall using the heat pipe screw holes. I'm going to invert the DC input jack to get the cable down low for better management.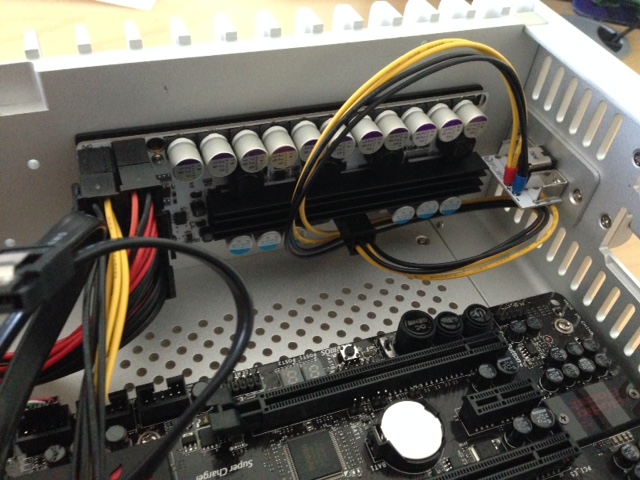 Strongly recommended if you need more than 160W
---
Hard Drives (2014-11-17)
For movies and recording TV I recommend two quiet 4TB HDDs:
Seagate ST4000VX000 and Western Digital WD40EURX.(I tested both of them myself. They are quiet and I didn't notice any vibration.)
Generally I recommend Western Digital Purple, Red, or AV Series and Seagate Surveillance or Video Series for HTPCs.
You can choose smaller or bigger HDDs but stay with surveillance series, please.
---
CPU coolers suggestions:
Ultra low profile (23mm high) CPU coolers:
Silverstone NT07-115X, Akasa AK-CC7129EP01
Low profile CPU coolers:
Silverstone NT07-1156, Titan DC-155A915Z/RPW, Gelid Slim Silence i-Plus, Dynatron T459, Scythe Kozuti Low Profile (40mm Height) Universal CPU Cooler
---
Chassis fans for ITX-1 and ITX-2.
I recommend NB-BlackSilentFan XM2 for ITX1 and ITX2 chassis:
http://www.aquatuning.us/product_info.php/info/p6350_Noiseblocker-NB-BlacksilentFan-XM2---40x40x10mm--.html
I recommend to use 2 of them in push pull configuration.
For second fan, please use 3M foam tape.
http://www.amazon.com/Scotch-Mounting-5-Inch-75-Inch-110/dp/B00004Z498
---
Configurations and suggestions received from happy clients:
Andrew wrote:
Everything works beautifully. The case is wonderful and you did a great job on the IR receiver and remote. I installed Windows 7 64bit. It's very fast and tunes TV on Cox cable. I love it! I built the following if you want to recommend it to your other clients.

Wesena ITX6 Case w/120W 24 pin PSU and AC/DC adapter
Asrock H67M-ITX/HT LGA 1155 Intel H67 HDMI SATA 6Gb/s ITX Intel Motherboard
Intel Core i3 i3-2125 3.30 GHz Processor
Akasa Low Profile Intel CPU Cooler (AK-CCE-7106HP) (Sockets 775 / 1156)
G.SKILL Sniper 8GB (2 x 4GB) DDR3 RAM Memory Model F3-14900CL9D-8GBSR
Western Digital Scorpio Blue WD7500BPVT 750GB 5400 RPM 2.5" SATA Notebook Drive
Ceton InfiniTV 4 Quad-tuner Card for Watching Digital Cable TV on the PC, PCI-Express x1 Interface

Please note that the Akasa CPU cooler fits and is nice and quiet when you set the fan to 2 suing the Asrock MB BIOS configurable settings.
Victor wrote:
I received the ITX6 and installed my Intel I7 Quad running at 3.8 GHz and it runs GREAT! The machine is quiet and runs nice and cool.... I just wanted you to know everything works fine. I installed Windows 7 Ultimate using the BluRay player and had no issues with power using the external transformer. My son has been playing Minecraft extensively and we've had no issues with heat, or noise or anything else. Runs nice and cool.
---